We had to take our dog to the vet today; every time we tried to pick her up she would yelp. It is either pulled muscles in her lower back or get this- a slipped disc! She has had a cortisone shot and is significantly better tonight. She has to go back tomorrow to be checked again.
While at the vet my son noticed they had kittens for adoption but I managed to get out of there without a kitten...but... his sister showed up for a visit, drove him back to the vet and low and behold we have a kitten. This is Snoop: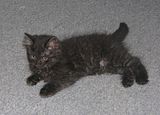 He is long haired grey and black and very cute and also very vocal and friendly!